Special Call for COVID-19 Research Projects
Iran National Science Foundation is announcing a special call to support research projects focused on coronavirus pandemic.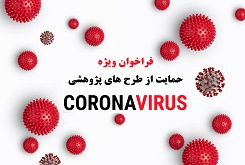 COVID-19 is the world-widespread pandemic of the day, whose outbreak is imposing challenges to the human health, as well as the societal and economic functioning of the world. Iran National Science Foundation (INSF) has taken urgent actions in supporting research projects that aim to tackle the novel coronavirus disease in all its possible dimensions – personal, societal, economic as well as cultural.
In this special call for coronavirus-related research, INSF has announced to fund research projects, doctoral dissertations, and post-doctoral fellowships specially aimed at the current pandemic.
To this end, the following support programs are being announced by INSF for coronavirus-focused research projects:
one-year extension of ongoing doctoral or post-doctoral research grants;

COVID-19 special doctoral research support grants;

grants of up to 600 million IRs for domestic research projects; and

grants of up to 1 billion RIs for domestic research projects that are conducted jointly by more than two universities or research institutes, or are conducted jointly by researchers from other countries.
Researchers can submit their proposals to INSF Research and Technology Management System from April 20, 2020 to June 20, 2020.