NASEM-IIASA Webinar Series
Sustainability and the SDGs: Promoting a Dynamic Science-Policy Interface
The International Institute for Applied Systems Analysis (IIASA) and the National Academies of Sciences, Engineering and Medicine (NASEM) are co-hosting a series on Sustainability and the SDGs: Promoting a Dynamic Science-Policy Interface.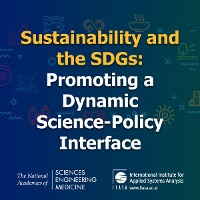 These joint webinars will explore pathways to achieve the United Nations' Sustainable Development Goals from multiple perspectives:
An integrated approach to implementing the SDGs that combines multiple research expertise from science to engineering to medicine in order to maximize the synergies and minimize the trade-offs across the goals (Webinar 1).

How can science best inform public understanding and aid in policy decision-making to achieve a sustainable future (Webinar 2).

How can science diplomacy facilitate international cooperation to meet sustainability challenges at global and regional scales (Webinar 3).
The webinar series will feature two internationally-renown speakers followed by an audience question and answer session.
For more information on the webinars, please click here.
The National Academies have set up a page with a live stream of the webinars to enable anyone who cannot access via Zoom to watch the seminars there. The link for the live stream is here.